Your dreams start here, atop the peaks of Adjara!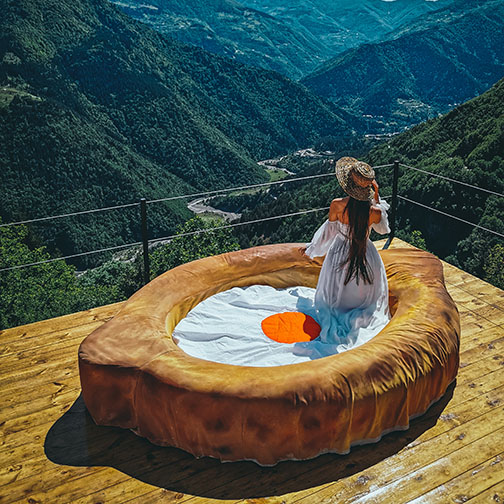 Relaxation from a height: unparalleled views, unforgettable impressions
The mesmerizing mountain peaks of Adjara hold something magical, and our hotel embodies this magic in each of our unique photo zones. Imagine yourself soaring above a cliff, swinging on a swing, contemplating the majesty of nature below. Don't forget to feel at home, resting on a bed in the shape of Adjarian khachapuri, adding yet another unforgettable photo to your collection.
Chanchkhalo village, Shuakhevi district, Zemo Adjara.
2 hours by car from Batumi
Important: Google maps do not correctly show the last part of the road. 
Before the trip, be sure to write to us and we will send detailed instructions.
We apologize for the construction work.
Reception of guests strictly by appointment!
The park sometimes closes for private events.
Your happiness is our source of inspiration!
Your smile is our greatest reward!
Definitely a must to visit! The most popular photo locations in Adjara! And what is worth only the view of the mountains! Delight! 2 hours on the way from Batumi and you are there!
Very beautiful place, with beautiful locations for a photo shoot! One delight!
I liked it very much in Nika, amazingly beautiful views of the mountains 😻 Locations for photos are simply gorgeous, everything is thought out, tastefully, I will definitely come to you again🥰and I will recommend to my friends🫶
Best experience for photo session ever… amazing place and hosts